【Furry Tale Dogcation Suite Package 】Themed Suite + Free Studio Photo Experience + Pet Theme Decoration + Organic Dog Meal + Gift Bag + $200 Meal Voucher|Hotel Sáv
New
Confirm In 24 Hours
3 persons are considering this one right now

Provider:

Hotel Sáv
Select option
Booking detail
---
Use date
---
Terms and Condition
The above rates are subject to 10% service charge per room per night
Advance reservation is required, at least 5 days prior your stay
Children under 11 years of age stay free with an accompanying adult on existing bedding
Present the meal voucher to the specified restaurant in hotel during the stay period to enjoy your meal
Health Declaration is required upon check-in
All rooms and privileges are subject to availability and may change without prior notice
No cancellation and amendment are allowed. A full non-refundable prepayment for the entire stay has been charged to your credit card at time of confirmation and failure to arrive at the hotel will result in forfeiture of the prepayment
All privileges cannot be transferred, accumulated, or redeemed for cash, other product or service
In case of disputes on the above offer, Holimood reserves the right to a final decision
How to use
---
Item added to cart
Exceeds the maximum quantity that can be purchased
Description
Hotel sáv Hong Kong is part of sáv Hospitality, an innovative collection of hotels, residences and resorts & spas located in some of the world's most sought-after destinations. The hotel challenges the status quo by creating a new hospitality experience that gives you more. So much more. From local art and culture to culinary tastes and a keen interest in keeping a healthy body and mind, we invite you to explore sáv your way.
📍 Furry Tale Dogcation Suite Package
One-night accommodation in The sáv Special Collection –Themed Suite starting from HK$2,480 (Price included stay for one dog, each room can accommodate up to two dogs each weights not more than 10kg)

Some suites include balcony. Balcony are on first-come, first-served basis, please apply upon reservation *
Welcome fruit plate & table wine

Free mini bar beverages and welcome snacks

Continental breakfast basket for two persons
HK$400 meal voucher at Bauhinia Kitchen (Dinner only, valid for 1 month from the date of issue) or Canadian Pizza (1 out of 2 options)

Alisan Bakery Taiwanese Castella Cake Set voucher

One serving of freshly-made organic dog meal (250 grams) by MyHappii (pre-order 1 out of 3 options) *

30% discount on PRIVATE i PETS Grooming Service, and Privileges

Free studio photo experience by Venture Studio valued at HK$1,000 and receive a handcrafted wooden framed image from Venture Studio valued at HKS1,500 (After shooting)

Welcome gift bag for doggie

Themed suite with dog bed, doggie cosplay closet, elegant doggie tableware, and outdoor doggie furniture

Free access pass to the Doggie Park at The [email protected]áv, Podium Floor

Wi-Fi Internet access

Your support to SPCA, Hotel sáv will donate part of the room income to SPCA after your stay

The second dog will be charged at HK$150 net per night, including 1 serving of dog meal by MyHappii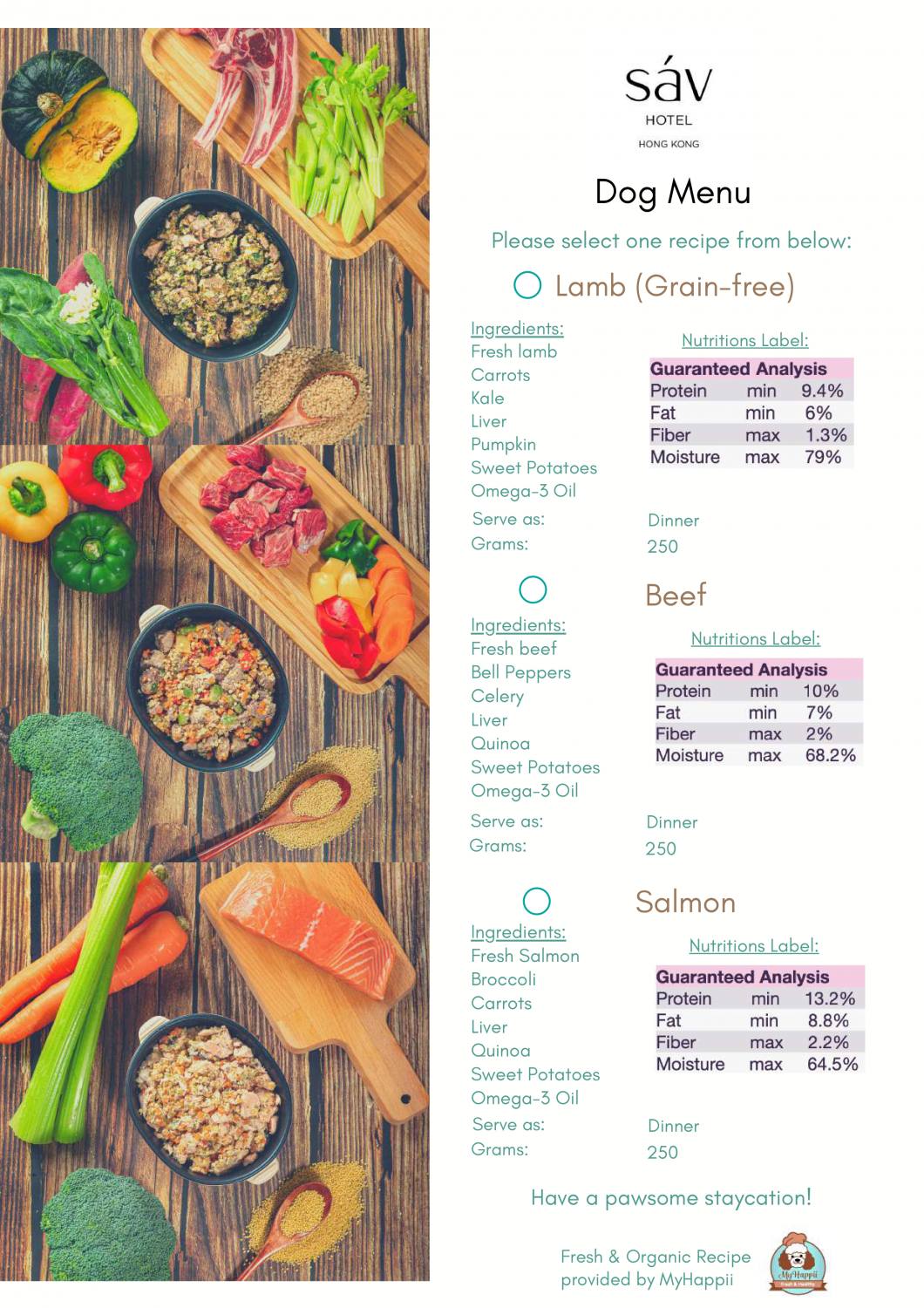 In order to provide a healthy and safe environment to our guests, Hotel sáv does

NOT

accommodate:
Mandatory COVID-19 quarantine purpose of stay

Recently completed mandatory COVID-19 quarantine in the past 14 days

Residential /working building with confirmed case of COVID-19 in the past 14 days

With fever symptom and have sign of discomfort

Direct contact with mandatory quarantine or confirmed case personnel
🏷️Terms and Conditions
The above rates are subject to 10% service charge per room per night

Offer is valid from now until August 31, 2021

Advance reservation is required, at least 6 days prior your stay

Children under 11 years of age stay free with an accompanying adult on existing bedding

Present the meal voucher to the specified restaurant in hotel during the stay period to enjoy your meal

Health Declaration is required upon check-in

All rooms and privileges are subject to availability and may change without prior notice

No cancellation and amendment are allowed. A full non-refundable prepayment for the entire stay has been charged to your credit card at time of confirmation and failure to arrive at the hotel will result in forfeiture of the prepayment

All privileges cannot be transferred, accumulated, or redeemed for cash, other product or service

In case of disputes on the above offer, Holimood reserves the right to a final decision
⚠️ Cancellation policy
Level 5 Reschedule booking : Reschedule booking is not allowed Cancel booking. Reservations are NON-REFUNDABLE.
In case of disputes on the above offer, Holimood reserves the right to a final decision.


Exact location provided after booking