Select option
Booking detail
---
Use date
Please select date
---
Detail
入營時間 1400
離營時間 1200
收費包括一位成人入場
收費不包括任何營具租借
Terms and Condition
Disclaimer
1. All outdoor camping activities have certain risks. Please evaluate the weather/environmental experience and ability/equipment of the day before use, and take responsibility for yourself and others in outdoor activities according to your ability.
2. Be sure to pay attention to the safety of individuals, companions and friends, especially the elderly and children, when conducting camp activities at the observation deck. If campers are injured or killed while participating in activities due to personal negligence, the camp is not responsible.
3. Please abide by the laws of Hong Kong when conducting camp activities. If the incorrect and illegal use of equipment and facilities causes any losses to the camp, all rights to recover the losses will be reserved.
4. There are potential dangers in the internal facilities of the camp, such as fish ponds, observation decks, etc. Campers should pay attention to personal safety measures, take all safety measures and ensure personal safety, but any accidents may be related to campers The applicant organization is responsible for it.
5. The payment of the camp fee by the guest will be deemed to have accepted the terms and conditions.
6. The above terms and prices are determined based on the Chinese version. The venue has the absolute right to make reasonable changes and updates at any time without notice.
7. In case of any dispute, the owmer reserves the right of final decision.

Things to note before reservation:
1. All campsites must be reserved in advance. Otherwise, booking will not be accepted.
2. Check-in time: 2 - 5:30pm and check-out time is 12pm.
3. If you wish to check-in after 5:30pm, please notify campsite staff in advanced and an extra $300 will be charged. Otherwise, the campsite will not be opened.
4. If individual campers need to enter the camp early or late, they must notify the camp staff in advance to make arrangements and will charge an additional service fee starting at HK$300.
5. There is no staff on duty in the campsite from 7 pm to 9 am the next day. Campers must pay attention to safety.


Arrangement of Bad Weather Condition
1. If the tropical cyclone warning signal No. 3 or above or the black rainstorm warning signal is still in effect at 12 noon, the camp will be cancelled on that day.
2. For reasons of safety and camp operation, after the Observatory issues tropical cyclone warning No. 3, all campers should leave the camp as soon as possible under safe conditions.
3. If a red rainstorm warning signal is issued on the day the Observatory enters the camp, please call the camp staff to check the camping arrangements before entering the camp.

Facilities and Equipment:
1. If you wish to rent the camping equipment, please reserved three days in advance. Rental without reservation will not be accpeted.
2. Please take good care of the public property, the facilities and equipment. If there is any loss or damage, you will be charged.
3. It is forbidden to cut down and pick flowers and trees, and do not dig holes in the land.
4. Without permission, it is not allowed to move the furniture/equipment in the camp and activity room.
5. Without permission, it is not allowed to hang flags, post leaflets and use camp power without permission.
6. Without permission, it is not allowed to take drinking water for activities/games.
7. Please keep the washroom clean, and it is strictly forbidden to dispose of kitchen waste in the washroom.


Injuries and accidents:
1. In case of any accident, please notify the camp staff or security guard for assistance.
2. We have taken all safety measures to ensure the safety of campers. However, in case of any accident, the organization is solely responsible for it.

Residential:
1. Residents are not allowed to bring outsiders, and visitors must obtain permission from the camp staff before staying in the camp.
2. After 11:00 pm, all campers must keep quiet to avoid harassing others.
3. Campers have to prepare your own camping equipment. Fee does not include any rental equipment.
4. Campers have to bring their own personal cleaning and hygiene products.

Other rules:
1. Campers must arrive and leave the camp at the designated time. If you are late or leave earlier, you must notify the camp staff in advance.
2. In the campsite, campers must be self-disciplined, clothes and shoes must be neat, and must not be naked.
3. Do not enter the office area, storage room and kitchen without authorization.
4. Without permission, no filming or interviewing activities are allowed.
5. Smoking, gambling, drunkenness or any behavior that violates the laws of Hong Kong is strictly prohibited in the camp.
6. If campers violate the camp's rules or other illegal or deviant behaviors are found, we have the right to terminate their camp period at any time, and the fees will not be refunded.
7. Campers must take care of their personal belongings, and if they are lost, the applicant organization will be responsible for it.
8. If there is an emergency, you can contact the camp staff.

How to use
Overnight experience on 2 days and 1 night. The check in time is from 2:00 pm to 5:30 pm, and the check out time is 12:00 noon the next day.
Please show the confirmation email upon check-in
Check-in time: 2pm, check-out time: 12pm
No refund or change for a confirmed reservation
---
Item added to cart
Exceeds the maximum quantity that can be purchased
Description
🏕️ Campsite Introduction
The campsite is located in

Fung Kat Heung

, Yuen Kong, with over 150,000 square meters of land and grassland, surrounded by mountains which allows you to get rid of

hustle and bustle.

The campsite is divided into 3 zones, including A Zone Car Camping, B Zone Wild Camping and K Zone TeePee Glamping. You can also enjoy the war game experience.

This campsite is suitable for families, friends, and couples.

Free parking spaces are available and are first come first served. Guests can also pay an extra HKD180 to park your car next to the tent to enjoy car camping.

Pets are allowed.

There are also other types of areas aviiable, 1) B Zone Wild Camping, 2) Hong Kong Exclusive: K Zone TeePee Glamping.
🏕️Camping Zone Introduction
A Zone

Car Camping

- overnight stay
- Large area of grassland, perfect for spending a night on car roof or camping next to your car
- Guests can also pay an extra HKD150 to park your car next to the tent to enjoy car camping
- Guests can also prepare your own camping equipment or rent from the campsite (More information below)

- Wooden boards are installed on the ground for placing the tents to prevent ground moisture, which makes camping more convenient and comfortable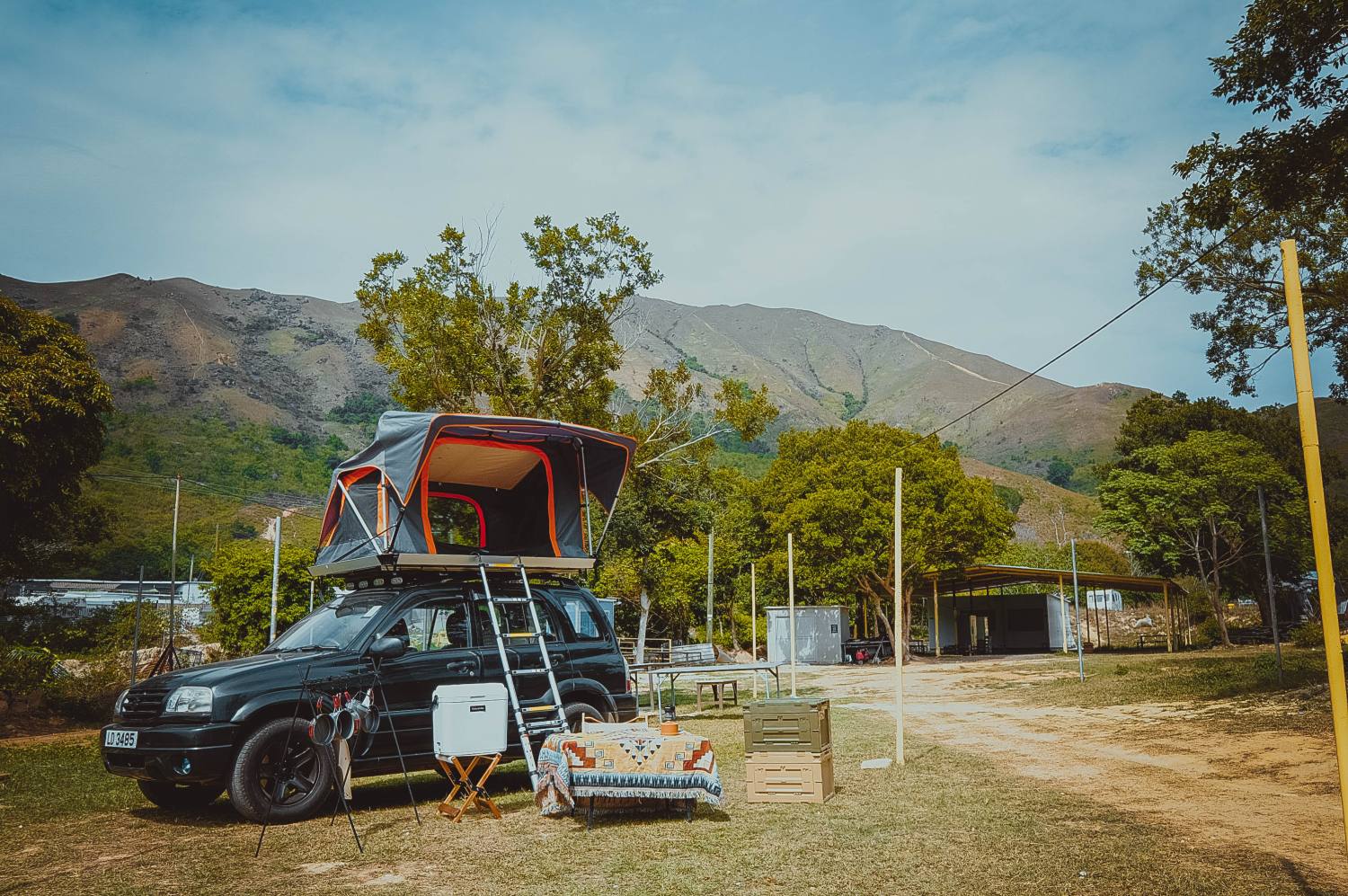 🏕️ Facilities

1)Car Camping Package (limited in A Zone)
- Enjoy 20% off discount using in WeCamp campsite (limited to Luxury Plan & Premium Plan)
- Extra $200 charge on Weekend and Public Holiday
- Extrance fee is not included in the charges shown below
- Overnight Rental Stay: 1400- 2nd day 1200
- One Day Experience: 1100 - 2300
- Book It Now: Car Camping Experience - Overnight Stay
- Book It Now: Car Camping Experience - One Day Experience
2) Picnic Setting Decoration Service



HKD 550 for 2
HKD 650 for 3
HKD 750 for 4

* Props are included
* Extra $150 for extra people
* If the decoration is for overnight, extra $200 will be charged
* If you need assistance of decorating, extra $350 will be charged.

3) BBQ Area
- You may barbecue outside you camping area, BBQ stove for rental HKD100
- Guests have to prepare your own food
- Charcoal or any bbq equipment is not included
🏕️ Price
Adults: HKD230/ 1
Children (12 years old or Below): HKD170/ 1
Baby (3 years old or Below): Free
Cars parking in campsite zones: HKD180/ 1
Vehicles/ mototrbike parking outside the campsite: Free
* Extra $50 charge on weekend and public holiday * Camping Equipement is not included in the charge


Exact location provided after booking